The Ninth Annual Undergraduate Physics Research Symposium was held on November 8, 2019 in room 177 in Newcomb Hall. Five undergraduates gave oral presentations of their physics and astronomy-related research at the event, and 5 undergraduates presented posters. Topics presented that placed are as follows:
Posters
Levi Schult: Improving Pulsar Timing with Wideband Pulse Portraits
Liam Walters: Dense Gas Tracers in the Most Massive Infrared Dark Cloud
Morgan Waddy: Observing Mildly-Recycled Binary Pulsar J1516-43

Oral Presentations
Eric Rohr: On the Galaxy-Halo Size Relation at Cosmic Noon in FIREbox
Morgan Waddy: Testing General Relativity with Black Hole-Pulsars
Ethan Blaser: Developing a Photometric Data Pipeline in Support of the Exoplanet Survey
Lingnan Shen: Polarizer Design for FnPN at Oak Ridge National Laboratory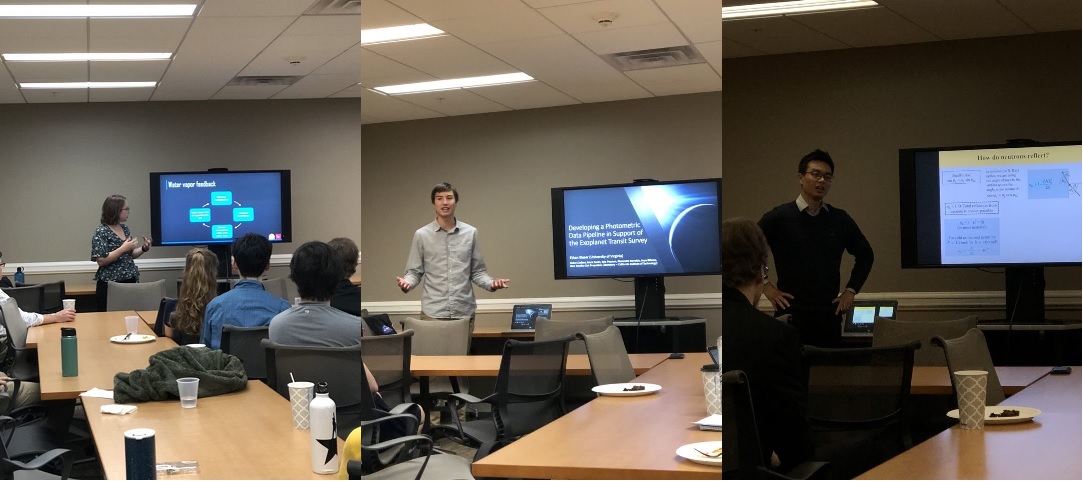 Prizes were given to the best three presentations and posters. We would like to congratulate the following students for their outstanding performance:
Talks:
1st place: Eric Rohr
2nd place: Ethan Blaser
3rd place: Lingnan Shen
Posters:
1st place: Levi Schult
2nd place: Liam Walters
3rd place: Morgan Waddy
We would like to give special thanks to our judges: Profs. Arnold, Norum, and Wilson. We also would like to thank the Physics and Astronomy Departments for support for prizes.